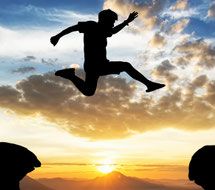 Jan 04 – Ready to notch it up? Is THIS the year you are determined to reach higher than ever before? Have you decided once and for all that nothing is going to stop you from getting to your next level of WOW? At the same time, are you afraid of what it might take to get you where you want to be? Do you worry that you don't have what it takes? Does it feel like an impossibility even though you really want it because of where you are right now?  
Don't allow what has been or what currently is be your reason. It is only your current circumstance. You always have a choice. The smallest of actions can help you leap towards your dreams. The smallest of insights can manifest outcomes beyond what you imagined.  
Take an MM&I Moment to awaken your inner WOW warrior.  What do you know about yourself that is undeniable? What have you achieved that has proven you have what it takes? What could you learn or embrace that will give you an added advantage or leverage? What is it you need to do right now to notch up your abilities or way of thinking? Now, with these insights, list and take some small actions that will bring you one step closer to where you want to be. There is always something you can do … always. 
Wide Awake Quote of the Week
"Amen is not the end of the prayer; it just gets us ready to go to the next level." – Gary Busy
Yours in dreaming WIDE awake,