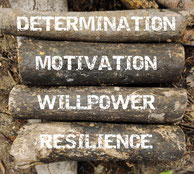 Nov 30 – About to give up? Are you floundering and losing momentum? Has a certain goal you have been striving for or an initiative you have been working on been stuck in limbo in progress being made?  Do you feel as though the lack of progress is also lessening the opportunity as a whole? If you are losing some of your zest and zeal, then you need to take a closer look behind your why. 
Could it be that you are so focused on what is not happening that you are not effectively leveraging what has progressed? Could it be that your priorities have shifted, which makes it less important or valuable to where you are headed? Your greatest obstacle oftentimes is how you are thinking about and perceiving the situation instead of the reality. 
Take an MM&I Moment to awaken to what is really going on inside your head and what you are trying to accomplish. Why was this goal or initiative so important to you initially? Has this importance or your desire changed? If this is so, then why and how? Have you properly acknowledged and leveraged the progress that has been made since you began the effort? What can you learn based on this reflection to replicate aspects of your effort for more success? What opportunities exist that can be leveraged to help you see progress again? The bottom line for you is, if it is still something you deeply desire and are passionate about, persistently do whatever can be done regardless of perceived obstacles or delays. There always is something you can do. Determination is your precursor to succeeding.  
Wide Awake Quote of the Week
"Our greatest weakness lies in giving up. The most certain way to succeed is always to try just one more time." – Thomas A. Edison
Yours in dreaming WIDE awake,