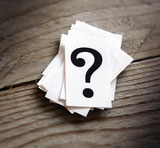 Nov 16 – Could doubt be your driving force? Is there something you are doubting about yourself, a goal, an initiative you are undertaking, or a relationship that is evolving? If it is about yourself, what is the underlying reason? If it is about a goal, is it because you aren't as far along as you would like to be in reaching it or that it has lost some of its appeal? If it is about something you are undertaking, is it because you feel overwhelmed or because you don't have all the answers? If it is about a relationship, could you be making some wrong assumptions or are you seeing things more clearly? 
When in doubt, don't accept doubt alone as your guiding principle. Take a moment to ask yourself where the doubt is coming from, and you may realize it isn't doubt at all, it is merely a need to know and learn more. 
Take an MM&I Moment to awaken to how doubt can be a driving force towards getting the answers or insight that you need. Allow your curiosity to be your guide in whatever it is that you are doubting. What information do you need to better understand the situation? What assumptions are you making that is merely your imagination going in too many directions? What action could you take that would bring you closer to a better understanding? What conversation do you need to have for greater clarity and perspective? Doubt is not meant to stop you; it is meant to prepare and guide you. By not accepting doubt at face value, you are realizing the true power you have from within.
Wide Awake Quote of the Week
"By doubting, we are led to questioning. By questioning, we are led to truth." – Peter Abelard
Yours in dreaming WIDE awake,
P.S. I will be a featured expert at the Intuitive Leadership Summit on December 8th! Learn more by clicking here!