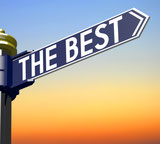 Oct 26 – Has an opportunity fizzled? Has a recent opportunity not turned out exactly as you had hoped? Did you expect more than you ultimately received? Did it end up not happening at all? Is the excitement gone and has disappointment set in because it didn't manifest as you thought that it would? Are you questioning your judgment or abilities as a result?  Are you now doubting your direction or priorities? 
When things don't occur how you had envisioned, it doesn't mean your vision is off; it just means there is more to be learned or a better opportunity is awaiting your discovery. What is worth pursuing is worth examining for the nuggets of learning that can help you go even further than you may have imagined.
Take an MM&I Moment to awaken to the insights realized from pursuing the opportunity. What was unexpected that occurred? What have you learned from being exposed to this unanticipated turn of events? How will you prepare differently when a similar opportunity arises? Is there an opportunity you are not seeing that has arisen amidst what feels like a loss? If your passion and desire is still strong, don't let this situation make you doubt your direction. Embrace the idea that something even better will result, because it always does when you allow your mind to explore and continuously nurture possibilities no matter the circumstances. Just because it wasn't as easy as you thought doesn't mean it isn't exactly where you should be focusing. 
Wide Awake Quote of the Week
"If you limit your choices only to what seems possible or reasonable, you disconnect yourself from what you truly want, and all that is left is compromise." – Robert Fritz 
Yours in dreaming WIDE awake,