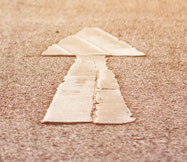 Oct 12 – Focused on the target or desired outcome? Are you striving for specific goals so diligently that it has become stressful? Do you feel that if you reach THAT goal, it will open the door for many other achievements? Do you find yourself stressing if it is not the perfect execution -- a bull's eye?  Do you find yourself lamenting over failures when trying to hit the mark previously? 
When working with clients helping them map their goals, one of the most powerful parts of the process is looking at the desired outcome that can be realized with each specific goal. When a desired outcome is connected to more than one goal, then you realize the connectivity can help you achieve even more than you may have thought possible. Your ultimate desired outcome creates momentum for each goal you strive to achieve. 
Take an MM&I Moment to awaken to your ultimate desired outcome for each of your goals. First, write each specific goal on a piece of paper or even in a mind map fashion. Then under the goal, write all the reasons why this goal is important to you. Finally, with each goal, look at all your reasons. Then note what will be the ultimate desired outcome you will realize after the goal has been achieved. Perhaps an example would help. One of my goals was to gain more exposure as an expert on a national scale. Another goal was to expand client base to a nationwide footprint. Both of these goals achieved has helped me achieve a key desired ultimate outcome for me: to gain stature as a national expert on entrepreneurial growth initiatives. What you will find is that when you explore your goals at a deeper level through understanding your reasons and the ultimate outcome that will be realized., you open a floodgate. When you are impassioned to pursue an ultimate outcome, your eyes see more possibilities to leverage to get there.  
Wide Awake Quote of the Week
"By believing passionately in something that still does not exist, we create it." – Frank Kafka
Yours in dreaming WIDE awake,
P.S. For my entrepreneurial businesses out there, what is your desired outcome with your business? Read this BizGrowth 5.0 article on the different phases of business ownership from a mindset perspective, entitled, Are You Building an Enterprise or a Livelihood?