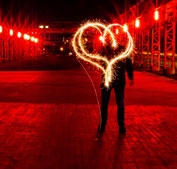 Sept 8 - Is your life and work in conflict? Do you find yourself in a sacrifice mode, feeling as though you must continuously choose between what you must get done at work or vice versa when it comes to priorities? Are you constantly feeling as though your life must wait because of work or that something you want to accomplish in your work must wait because of life? Does it seem that there are so many things out of your control dictating what you must focus on versus even being able to choose what you focus on?
If you are viewing everything as separate, pulling, and tugging at you, then you are operating from a "need to balance" mindset. You are also likely focusing too much energy on what seems to be tugging and pulling at you … what is out of balance and in conflict, instead of what matters most to you and what will bring the greatest satisfaction and gratification to you. Everything in life begins and ends with you. If your thinking is holding you back, it is time for a new way of thinking.
Take an MM&I Moment to reawaken to a more synergized way of viewing your life and work as supporting, energizing, and working together. Through this shift, you will be creating more opportunities in all aspects of your existence as a result.  What would this look like in your ideal world? What would it feel like in your ideal world? What is the ONE small effort you could make right now to bring your conflicting worlds together? Is it involving others in what you are trying to do? Is it letting go of what no longer serves you? Is it saying no in order to say yes? Now take a look at what you have noted as simple things you could do. Do that one thing.  Then do another. This is the beginning of a synergy mindset. Once you embrace it, it will set you and countless possibilities into motion!  All by always doing that "one thing." With each positive effort you make and action you take, conflict dissolves and possibilities ignite.
Wide Awake Quote of the Week
"Conflict cannot survive without your participation." – Wayne Dyer
Yours in dreaming WIDE awake,
Sherre'