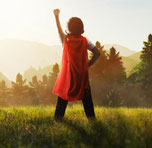 August 11 – Is it time for next-level thinking? Have you gotten comfortable, yet aren't fully content? Do you find yourself going through same old same old, as if in auto pilot? Do you feel that some of the excitement and intrigue of a new day is lost? Are you in a state of boredom, even though you stay quite busy and demanded upon? Do you feel a bit stuck, yet don't have any idea what it is that is making you feel this way?  
Each day is an opportunity to explore and expose yourself to new and unexpected discoveries if you allow yourself to stretch beyond and outside of your comfort zone. Be willing to challenge yourself in ways that will delight and restore your sense of self and elevate you to even greater heights.
Take an MM&I Moment to reawaken your sense of wonder, intrigue, and curiosity.  What is something you would like to know more about? Where are places you would love to explore? What skills would you like to advance or hone? What passions have you allowed to go dormant? What creative urges have you ignored? When your mind opens to new possibilities, your courage expands to embrace them. And once seen, don't second guess, don't disregard. Explore and engage all your senses into experiencing with a childlike curiosity. 
Wide Awake Quote of the Week
"Curiosity will conquer fear even more than bravery will."  - James Stephens
Yours in dreaming WIDE awake,
Sherre'
P.S. Starting June 17th through August 15, I am posting favorites from Dream Wide Awake each day as a part of my 60 Days of Giving and 60 Days of Living. Look for them, follow and like on Facebook, Twitter, Instagram and LinkedIn. #inspiration #dreamwideawake