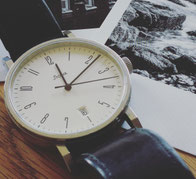 June 2 – Are you valuing your time enough? Does time seem to constantly be getting away from you? Do you find that everyone else's time beckons your attention, taking your focus and attention away from more important things? Do you find yourself wishing you had more hours in a day or more time to do the things you really would like to be doing or focusing upon?  You have the same amount of time in a day as everyone else does. 
No one gets 25 hours. No one gets fewer than 24 hours. If you want more time, then seize it. How you use it and how you leverage every moment is what will finally set you free.
Take an MM&I Moment to awaken to the reality that you have become your own worse enemy when it comes to the use and allocation of your own time. List all the things you are spending time on that you don't enjoy. Now list who could be doing it instead of you. Assess what could actually be eliminated from your to-do list, and it doesn't even need someone to take over it. Now list anything that you consider to be a waste of time or not the best use of your time. Are you spending time in an activity that is an escape of some sort, but not really serving you? What would happen if you lessened your time spent on this activity? What would happen if you eliminated it altogether? Now make a list of all the things you believe will add value if time is spent in these areas. Cross reference with the list you made of time areas to be eliminated and voila, you just seized control of time you thought you did not have! Stop using time as an excuse. Start treating it like the asset that it is.
Wide Awake Quote of the Week
"Time and health are two precious assets that we don't recognize and appreciate until they have been depleted." - Denis Waitley
Yours in dreaming WIDE awake,
Sherre'
P.S.  I will be a guest instructor on behalf of Rowan Cabarrus Community College Small Business Center for a seminar entitled, "4 Critical Factors for Achieving Sustainable Growth and Profits" on June 10th between 3-5 p.m. This will be an in-person class, and space is limited to 12 people at their new Small Business Center.  CLICK HERE to register.