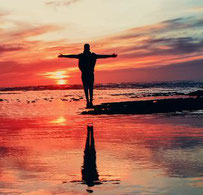 May 5 – Are you compelling or convincing? Are there goals you have that require others to be engaged with you to achieve? Are you not getting the results you desire in others jumping on board in what your offer, what you are aspiring to do, or what you need assistance in doing? If you are spending all of your time trying to convince others, then you are either not targeting the right audience or so focused on convincing others, there is no spark of excitement or intrigue to compel them into action. 
To build momentum you must create momentum … in your thoughts, intentions, and actions. Start with your impassioned vision and mission and ignite the same impassioned belief in others to be inspired along with you. 
Take an MM&I Moment to reawaken your passion around what you are doing and trying to do. What will be the ultimate outcome of achieving it and how will it make a difference for others in addition to you? What most excites you about what you are doing? What passions are stirred within you because you are on this journey?  Allow your passion to ignite people into action on your behalf.  When they experience through you, they cannot help but want to experience it for themselves. 
Wide Awake Quote of the Week
"If your actions inspire others to dream more, learn more, do more, and become more, you are a leader." – John Quincy Adams
Yours in dreaming WIDE awake,
Sherre'
P.S. I was a guest co-host for the entire month of April on Local Biz Now radio talk show on WSIC in Statesville with Joe Vagnone, Friday between 8-9 a.m. 
April 30: Last week, I interviewed client, Natasha Fowler of Fowler Housing Management Advisors, whose mission is to make affordable housing accessible to all.  She reinforced the power of Secret #48 from my book, 50 Secrets of Growth Companies in Down Economic Times, which is the Start-Up Formula for Success, (R+P)+(I+S) = GO! Check out the FB Live broadcast by CLICKING HERE. Scroll down to view all the FB Live recordings for the month.