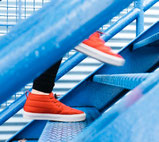 April 7 - Are you empowering yourself? Do you feel as though you are in an uphill climb with every step forward only resulting in two steps back in trying to achieve your goals? Is your focus more on the steps backward than the steps forward? When you allow yourself to get caught up in what is not going well, you are giving the challenges more power over you than the triumphs. 
The greatest way to empower your ability to truly move forward is to put all your energy and focus on what has helped you realize success and then have the courage to take that success one step further. 
Take an MM&I Moment to reawaken to the "steps forward" you have realized, disregarding right now the challenges and "steps backward" that also occurred. Now list the factors that contributed to these small successes and accomplishments. Was it connecting with the right people or resources? Was it a matter of timing or having gained some knowledge that empowered you to take it forward? By taking a moment to understand what helped you succeed, you are better able to know how to replicate and empower yourself to succeed even more. Do this on a regular basis and you will find yourself able to deal with any challenges head on. Before you know it, you will be making real strides and leaps towards your goals. 
Wide Awake Quote of the Week
"Baby steps count too, as long as you're moving forward." – Chris Gardner
Yours in dreaming WIDE awake,
Sherre'
P.S. I am a guest co-host for the entire month of April on Local Biz Now radio talk show on WSIC in Statesville with Joe Vagnone, Friday between 8-9 a.m.. Check out last week's and join in this week on Facebook Live or via the website. 
April 2: We discussed Jeff Bezo's 11 Tips for Business Success and interviewed client, Palash Desai of The Organic Maids and his focus on purpose-driven capitalism. CLICK HERE to watch full episode in the Facebook Live recording. CLICK HERE to view interview with Palash on YouTube.